Shopping Basket
Your Basket is Empty
There was an error with PayPal
Click here to try again
Thank you for your business!
You should receive an order confirmation from Paypal shortly.
Exit Shopping Basket
| | |
| --- | --- |
| Posted on 27 April, 2019 at 14:40 | |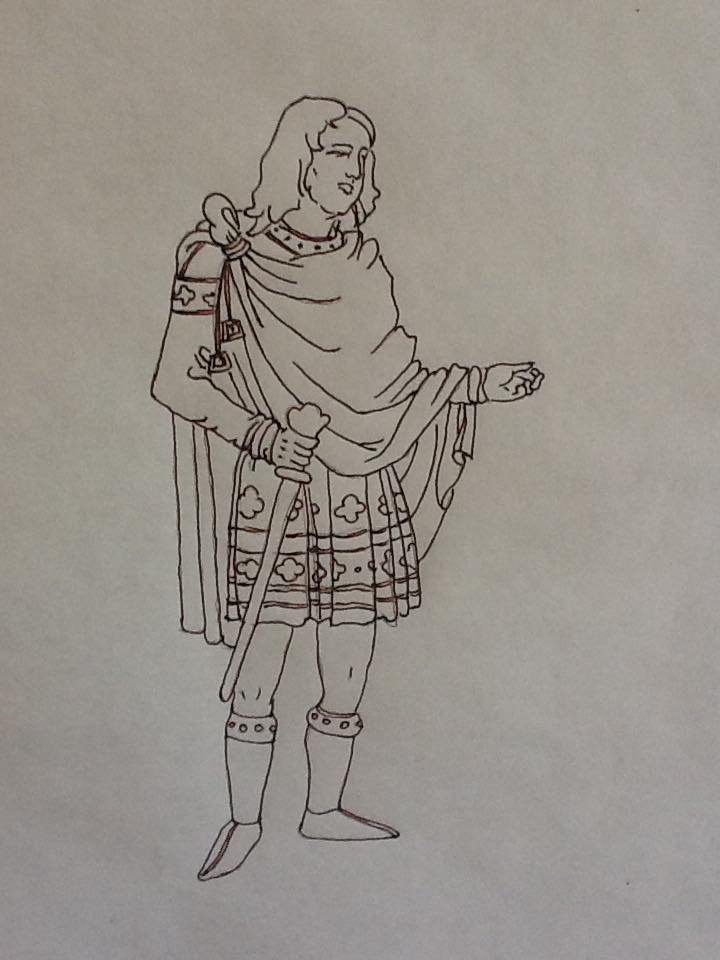 Saxon Nobleman
Fantasy Costume Design:
Saxon Nobleman:
The Saxon Nobleman has been used throughout Fantasy stories in various guises. This drawing of a Saxon Nobleman is the partner to the Saxon Lady in an earlier blog post. He can be used as either a hero or a dark character within the plot.
Men:
The shirt would have been woven in linen, and the breeches would be either short, in which case would scarcely reach the knees, and would have been embroidered, as depicted in the art below, or would be long. Above these breeches, the tunic would have been either linen or woollen. The legs would often be covered in leather and criss-crossed with bandages. Shoes were pointed at the toes and made of leather also.
The hair would be worn long. Broaches would have been used to fasten cloaks, other jewellery worn by the man would be rings and necklaces, made from gold or silver.
Garments on the continent would have been highly embroidered, whereas their English counterpart would have used more dye stuffs for affect.
The example here is of a Nobleman in the style of Anglo-Saxon and Danish of the era 450-1066. Danish warriors would have been known by their winged helmets when in battle.
Be Creative:
Look to create a colourful fabric board by pinning the example below in the centre of your work space. Search out small pieces of fabric examples on how you would like your costume design to look.
Fabrics:
The fabrics used would have been hand spun and woven, then stitched by hand. A lengthy process which would mean clothes would last. Wool and linen would have been the main fibres used. Leather was also incorporated as edgings for cloaks and foot wear.
An undergarment would be worn with long sleeves and overgarments would be worn shorter.
. . . And So Into Fantasy:
Do have fun creating your own design board, be bold, stepping outside of the normal, after all in fantasy all 'rules' can be changed for your own purpose and to enhance your own story. It will bring a depth to your creativity.
Call to action
If you have a knowing, an inner calling to be creative, we would love to hear from you.
Come and be a part of this creative community. Do sign up for the newsletter, all that is required is your name and email address.
Until we meet again across the airwaves, may your heart star shine brightly.
Categories: None
/