Shopping Basket
Your Basket is Empty
There was an error with PayPal
Click here to try again
Thank you for your business!
You should receive an order confirmation from Paypal shortly.
Exit Shopping Basket
Meet Diane at the British Fantasy Society Convention
Held this year at:
FantasyCon2019
Golden Jubilee Conference Hotel
Glasgow, Clydebank, UK G81 4SA
This event is from Friday 18th October at 13.00 - Sunday 20th October 20.00
As a visitor at this event, I can be contacted by texting 07818419975
Meet Diane at the Bristol Fantasy Society Convention
BristolCon2019
Double Tree Hilton Hotel
Redcliffe Way, Bristol, BS1 6NJ
This is a...
Read Full Post »
Fantasy Illustrator
Hello and welcome to my blog . . .
A little bit about illustrating in the 1960's – 1980's era.
Fantasy illustrations are often played out by an illustrator, and with the explosion of LP record sleeves being in demand for the music industry; along with posters often to be found covering students walls, Illustrators found a whole new way to express themselves over and beyond the traditional fine art that had held popularity for ...
Read Full Post »
Science Fiction - Fantasy:
May is full of meet up conventions:
All types of events are vying for you to attend!
What do you truly want to head off to?
What is going down in the Month of May 2019?:
Science-fiction, Fantasy - all exciting event to meet up with like-mined people
A list of events that have come to my notice:
Friday 3rd – Sunday 5th May – we begin with the Utopia in Oxfordshire...
Read Full Post »
Lord Of The Rings – T.V.:
Lord Of The Rings by JRR Tolkien:
Created into a three part film series, followed by a three part film, The Hobbit, Peter Jackson magnificently built a dream series out of an impossible overly magnificently, unwieldy, wealth of description through his written fantasy world of Middle-earth.
A dedicated writer JRR Tolkien created the history, and languages of an entirely imaginary race of beings . . . the visionary of his m...
Read Full Post »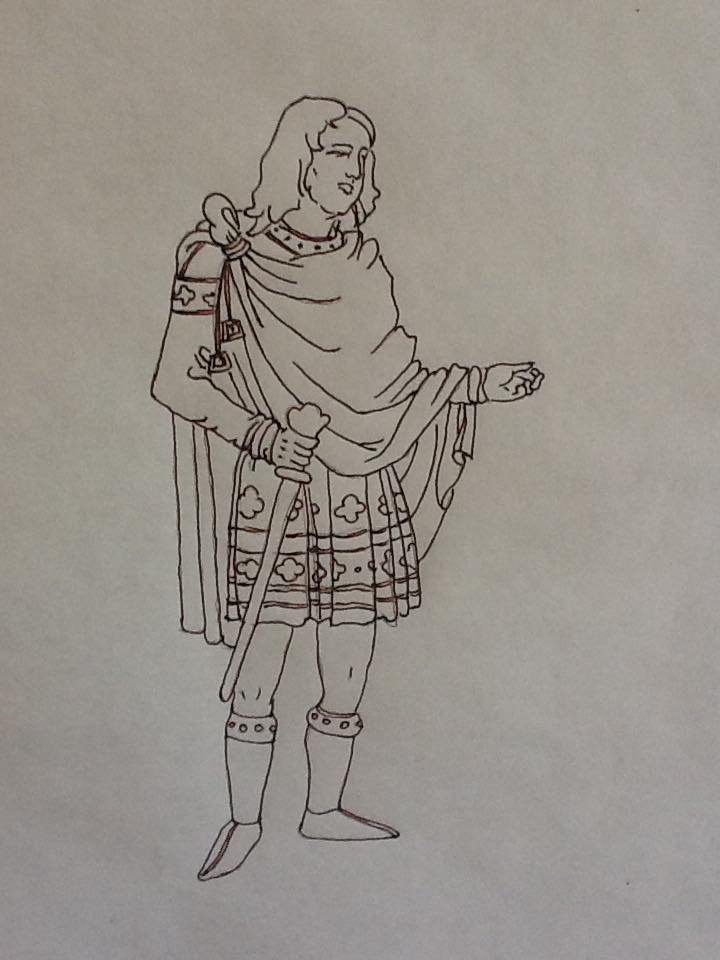 Saxon Nobleman
Fantasy Costume Design:
Saxon Nobleman:
The Saxon Nobleman has been used throughout Fantasy stories in various guises. This drawing of a Saxon Nobleman is the partner to the Saxon Lady in an earlier blog post. He can be used as either a hero or a dark character within the plot.
Men:
Read Full Post »
Fantasy Author – Terry Pratchett:
Pratchett:
Lived and breathed his passion, and assembled a vast array of information used for referencing – His own personal library was extensive. Terry used this collected information to build and write his stories.
A prolific writer of his time, he had a unique humorous style that he had and is still loved for today.
Within his Discworld series he created 41 novels. Terry's first novel The Carpet Pe...
Read Full Post »
Meditation – 3:
Today is a great day for meditating:
All days are good for meditation, and you will find your way to this meditation when your soul, your Inner Child needs time out to speak to you, so it is not date specific.
As we become familiar with this meditating journey, it is good to use this moment to be still within, for today we will cover this familiar journey to the sea however, we shall journey a little further.
I trust you are e...
Read Full Post »
Topic Of The Day - Green Screen:
Green Screen:
Green screen is the topic of the day – whereby a large screen of green is used as a backdrop in order for characters in the story line are able to act out in front of, then the green screen can be used to form many different environments.
The Lord Of The Rings has extensive additional DVD footage devoted entirely to the making of . . . It brings the wonders of this world of filming and the bringing to...
Read Full Post »
Fantasy Costume Design:
Fantasy Stories:
Fantasy stories are often placed within the author's mind in an imaginary 'history'. It is good to use known history as a starting basis ready to expand into your own alternative history.
Example:
I am including for your use today a female figure as an example of a starting point (many more to follow).
The example here is of a Lady dresses in the style of Anglo-Saxon and Danish of the era...
Read Full Post »
Science Fiction or Science Fact
Stephen Hawking:
Born: 18th January 1942 – Died 14th March 2018 in Cambridge, U.K.
A well known British Professor of Theoretical Physics – Cosmologist, Who suffered for 50 years with the degenerative motor neurone disease (MND), which eventually left him both paralysed and without speech.
I was drawn to watch a YouTube concerning his last and final paper working with co-author Thomas Hurka – Profess...
Read Full Post »
0

/